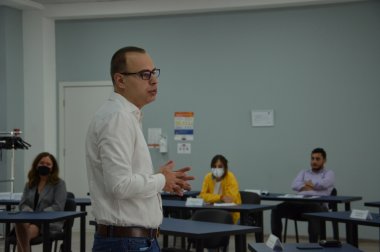 The Association of Infrastructure Builders, together with the International Sales Institute, invites you to a training on "Relationship Sales".
The training is designed for those who directly manage the sales team, corporate sales and complex negotiations, which are often focused on long-term results and, to get the final result, require a lot of time and energy.
Advantages of the training: The program is based on specific practical cases, internationally recognized materials and is adapted and practical for the Georgian market.
The program consists of three main blocks: planning, implementation and analysis.
The program includes a basic theoretical introduction reinforced by practical tools, which is essential for developing a sales strategy, reaching the right customers, and conducting complex negotiations. The course will also cover the techniques needed for online sales.
trainer:
David Chikvaidze, Founder of the International Sales Institute. To get acquainted with the trainer's biography, you can visit his Linkedin link.
Training participants will be given a certificate confirming the completion of the training.
If you are interested, please confirm your participation no later than November 19
In this completed form
Date: November 30, December 2-6-8-10, 17: 00-20: 00 (15 contact hours in total).
Venue: 13b Ljubljana Street, Conference Hall of the Infrastructure Builders Association
Training fee: the cost of the course is 1390 GEL;
The Association of Infrastructure Builders will cover 75% of the cost of the training for its members, therefore, the cost of the course for the members of the association is 345 GEL.