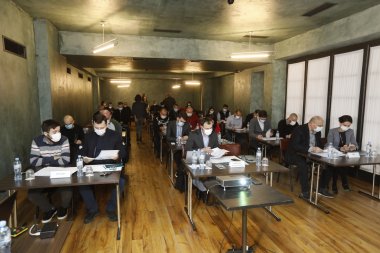 On November 26-27, in Bakuriani, at the Rooms Hotel Kokhta, the ICCA project, supported by CIPE (Center for International Private Enterprise) and York Towers, a member of the association, was closed for the second time. 
The workshop, entitled "Key Aspects of Labor Law and Occupational Safety and Challenges in Construction", was attended by representatives of construction companies, the labor inspection, as well as government agencies procuring construction work.
Ana Sabakhtarishvili, Executive Director of the Association, and Mariam Kuchuloria, Program Officer of CIPE (Center for Privet International Enterprise), delivered welcoming speeches at the event.
On the same day, within the framework of the event, Levan Abashidze, Head of the Operational Information Retrieval, Monitoring and Disciplinary Division of the Labor Inspection Monitoring and Supervision Department, spoke about the Labor Inspectorate's mandate and its powers and typical incidents in construction.
Mariam Lortkipanidze, Deputy Director of York Towers, made a presentation about the company in the first part of the event.
The practical and theoretical part of the workshop was led by Tornike Todria, Co-Founder of Occupational Safety Company "Safco", Occupational Safety Specialist, Instructor and Advisor and Raisa Liparteliani, Georgia Trade Union Chairman, Deputy Chairman and Member of the Association.
The successful participants of the workshop were awarded certificates on November 27.